The latest Old Ways for Modern Days podcast episode is now available.
It's a quick 20 minute episode!
I've become a bit bread baking obsessed these past weeks in quarantine, and I've noticed a lot of other people doing the same. It made me think about why we've been baking so much, what it means to me personally, and how the magic of bread baking is helping others right now… and that is the inspiration for this podcast episode.
In The Episode:
I tap into my observation skills as an anthropologist and talk about history and culture, and I also get to be a little esoteric during the episode. I also might wax somewhat poetic about bread, too, and discuss why something so simple has such a powerful effect on us.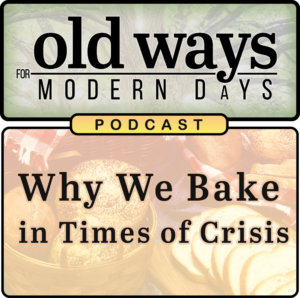 With these things in mind, we explore why so many people are drawn to baking bread right now, and how it ties directly to our instincts and interestingly into some cultural concepts about ancestors. If you're interested in exploring more about why we act differently during a crisis, and how it's not a bad thing, you might also be interested in the episode, Always Be Prepared.
I talk quite a bit about ancestors and how their legacies can also be a source of comfort right now. They lived through pandemics, war, isolation, poverty, and many other catastrophic events, and many lived to tell the tale. That feels very reassuring in this pandemic time.
Recipe From The Episode: Olive Oil Bread
In the episode, I mention my favorite go-to bread recipe, the one I've been using, and tweaking and having fun with for the past 15 years.
Don't be intimidated by that number. I don't consider myself a baker – I'm not scientific or patient enough. But that's good for you, if you are a novice baker because that means this recipe will not take a lot of time, or effort and it is such a forgiving dough. So even if you've never baked bread before, you'll have a first time success. In fact, I've been sharing about bread (and other kitchen projects) on Facebook LIVE, and have inspired quite a few new bakers…and their first time baking with this dough were successful!
I hope you enjoy the podcast episode, and the bread recipe!
Be well. Stay safe.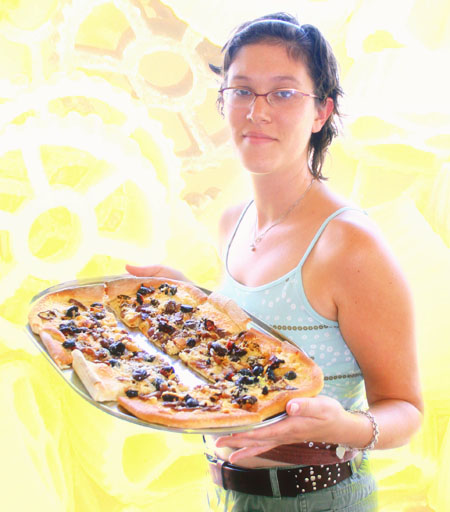 Olive Oil Dough (No knead)
(From Artisan Bread in 5 Minutes a Day by Zoë François & Jeff Hertzberg)
This has literally been my go-to recipe for the past 15 years. It is quick, easy, and very forgiving. It's hard to mess it up. Plus, you can do so much with it. I've experimented with the basic dough a lot over the years, and used different flours, including gluten-free AP flour. I've sometimes omitted the olive oil. I made pizza crust, focaccia, hamburger buns, and grilled flatbreads with it. I've hand-shaped it, and have baked it in pans. It all comes out great!
Get the book!
The philosophy of the book where this recipe comes from is "Homemade stored dough, refrigerated for up to two weeks. You'll mix enough dough for many loaves, so you can take a piece from the fridge whenever you need it. Mix once, bake many… ". To learn more go to the Artisan Bread in 5 website where you can find lots of other books in the same style and delicious recipes on the blog. I highly recommend this.
Olive Oil Dough Recipe
This recipe makes two large loaves, or 4-5 small loaves.

INGREDIENTS:
2 ¾ cup lukewarm water
1 ½ teaspoon yeast
2 teaspoons salt
1 Tablespoon sugar
¼ cup olive oil
6 ½ cup flour
METHOD:
Place warm water, yeast, salt, sugar, and olive oil in a large non-reactive mixing bowl.
Add the flour and mix well. No need to knead!
Place a towel over the bowl and let rise for about 2 hours. It is my habit to let it rise between 12-24 hours, but this dough can be ready to bake in 2 hours.
Using your hands, mix about another ½ cup flour into the dough. This dough will be a little sticky, but it should be workable without getting stuck on your hands.
For a simple rustic loaf, take about half of the dough and lightly shape and place on a baking sheet.
Put the rest of the dough in the fridge for later baking.
Preheat the oven to 400 F. Put an oven rack in the middle, and one at the bottom (if you want to get a nice crackly crust – place a baking pan on the bottom rack while the oven pre-heats, if not omit this step) .
Let dough rise for about 20 minutes (while the oven is getting nice and hot).
Slash the top a few times (you can get creative here and make it pretty).
Then put the baking sheet, with the dough in the oven and bake for about 30 minutes – could be 25 or 35 depending on your oven.
If you want to get a nice crackly crust, throw about a cup of water into the baking pan on the bottom rack to create some steam in the oven.
You'll know it's ready when you knock on it and it sounds hollow.
Let bread cool for about 15 minutes if you can hold out before slicing.
More Bread Recipes:
More about Ancestors: