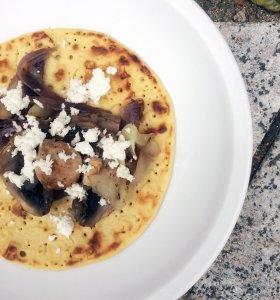 Pancakes are possibly the ultimate comfort food in the breakfast category, however, don't limit yourself, they can be served any time of day, sweet or savory.
Although the ancient Greeks made pancakes, the word doesn't appear in the English language until the 15th century. When you take the word pancake apart, you have "pan" and "cake" – so essentially a cake that is made in a pan, pretty simple. This is true peasant food, and for those of you interested in the Modern Peasant Lifestyle, getting a pan cake repertoire in your household will serve you well.
Pancake Obsession
If you follow me on Instagram then you know I've been a little obsessed with pancakes lately. That's because they are so versatile, and require few ingredients. We have a beautiful fireplace in our kitchen, and I have been using it to cook pancakes. It started one day when we were getting low on cooking gas. I thought why not try cooking on the hot coals leftover from the fire we had the night before. So I mixed up chestnut flour and apple pancakes. They turned out great! I was ready for more. Next was Necci, a traditional chestnut flour pancake from Tuscany. It is the simplest recipe you can make with only 3 ingredients: chestnut flour, (water), and salt, plus a little olive oil to fry them in. They are very filling as is (I served them with salted butter), but can be served with ricotta and honey, the traditional way, for an extra special treat.
My friend Judy from Divina Cucina saw my adoration for the necci and told me about Cecina, another pancake from the Tuscan region, using the same principle as necci, only using chickpea flour instead of chestnut. It reminded me of a recipe I made years ago, with the French name, Socca. I also discovered a few more names associated with chickpea flour pancakes – Farinata and Torta di Ceci.
The history of chickpea flour pancakes is Medieval
In doing my research for this post, I was delighted to find that chickpea flour pancakes are traditional in Sardinian cuisine, from the city of Sassari, where my husband and his father were born. There it is called La Fainé Genovese or Fainé alla Sassarese.
I have mentioned that I love to learn about traditional foods of a place – how the landscape and history of a region influence the foods typically eaten there. I couldn't help but wonder what a staple northern Italian dish was doing as a part of traditional Sardinian cuisine. So I did some more research.
Well, apparently La Fainé Genovese has a long history in Sardinia. In Italy, these pancakes have their roots in the Liguria region, more specifically Genoa. The dish is known there as Fainâ. The history of this dish in Sardinia goes back to the middle ages, specifically the battle of Meloria in 1284. During the 13th century, there was a strong naval presence in the Sardinian city of Sassari by both Pisa and Genoa, strong northern Italian city-states and both wanted control of Sassari in order to get a stronger footing on the island. The Genovese were the winners of the battle of Meloria and so their influence in Sassari became stronger, including culinary influences, since many of their staple ingredients, like chickpeas, became prominent there, thus, the birth of La Fainé Genovese.
La Fainé Genovese is usually baked in a wood-fired oven, and the preparation resembles the making of polenta in the ancient world. Polenta was historically made from oats, barley, millet, chickpeas, and buckwheat before corn; a new world plant was introduced to the diet.
How to Eat Chickpea Flour Pancakes
Due to my recent practice making pancakes on the fire, I opted to prepare it the Tuscan way, which resembles a crepe or thin pancake. Since these pancakes have no leavening agent they are rather flat and pliable. I had some beautiful mushrooms and some leftover sausage, so I decided to make a savory filling, and we had them for dinner. However, you can serve them any way you like. On Judy's blog http://divinacucina.com/2015/11/tuscan-fall-pleasures-chickpea-pancakes/ , she suggests slathering the pancakes in a white truffle cream then topping with prosciutto and some arugula. You can also use the pancakes as a substitute for bread for your favorite sandwiches.
There really is no food more humble than a pancake, and there are so many wonderful varieties. Every culture seems to have a version, and you can look globally for inspiration. Making the pancake a staple of your meal planning rotation is not only budget-friendly and fun to make but delicious.
Cooking Pancakes Over an Open Fire
Here is a video of my daughter and I making pancakes in our fireplace for the first time.
Medieval Chickpea Flour Pan Cakes
Author:
Prep time:
Cook time:
Total time:
Chickpea flour pancakes trace their roots in traditional Sardinian cuisine back to the middle ages and can be cooked on an open fire. They are peasant food at their best – inexpensive and easy to make, and delicious to eat.
Ingredients
2 cups of chickpea flour (400 g)
1 ¾ cups of water (450 ml) – enough to make a thin batter
1 pinch of salt
2 Tablespoons of olive oil for frying
Instructions
Heat a cast iron skillet over the coals if you are cooking on an open fire.
Otherwise, warm the skillet over low heat. Meanwhile, mix the batter of chickpea flour, water and salt to form a thin batter.
Heat the olive oil in a pan.
Then pour batter into the pan, a scant ¼ cup at a time.
Although the batter looks like crepe batter, it is better to make them a bit smaller. So don't fill the pan.
Cook on the first side until bubbles form all over, and the top of the pancake looks dry.
Then flip and cook for another 1-2 minutes.
Continue in this manner until all of the batter is used.
SaveSave
SaveSave
Related Posts
Lasagna Legacy: Italian Food History
Saffron, Ricotta, and Honey (Sardinia's Holy Trinity)