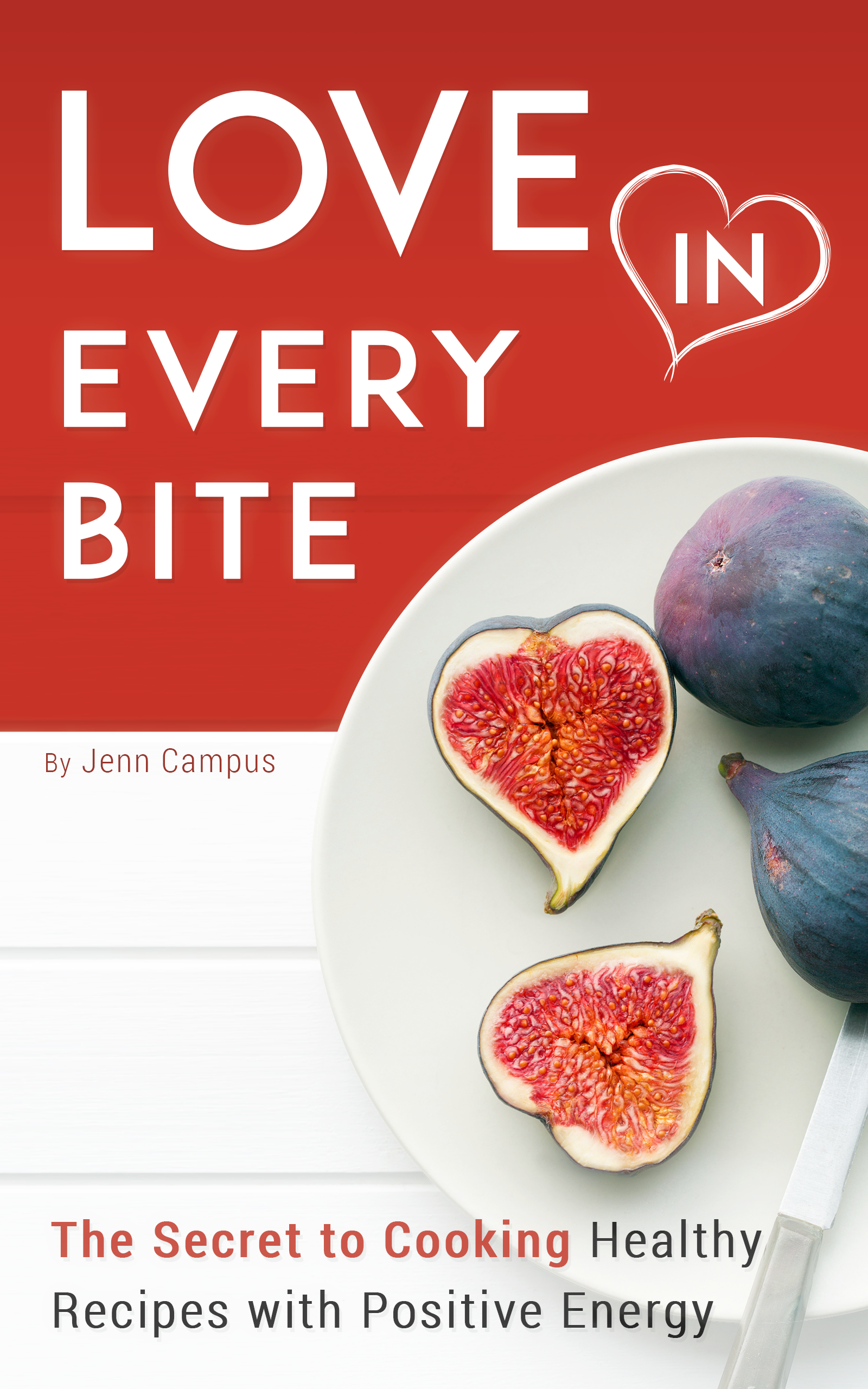 Love in Every Bite
The Secret to Cooking Healthy Recipes with Positive Energy
By Jenn Campus
30 delicious, naturally gluten free and easy to prepare recipes to bring magic into your kitchen and love into your life.
Learn how to cultivate ritual in your cooking, using visualizations to endow your recipes with your intentions for the recipient, while choosing healthy and wholesome ingredients that nurture the body as well as the romantic heart.
Each recipe has been lovingly created to maximize flavor and ease of preparation so you can focus on your intentions and not your knife skills. Recipes feature ingredients associated with love, health and well-being.
Features & Details
| | |
| --- | --- |
| Size | 8×10 in, 21×26 cm |
| Length | 118 pages |
| Format | Softcover, Kindle |
| ISBN | 9781366414779 |
| Published Date | Jan 28, 2017 |
Reviews
After several decades during which food, spirituality, and love were often sources of confusion and mixed messages (something my body and soul understood and responded to accordingly, even if my mind hadn't quite caught the plot yet), I'm now gifted with a life in which these three things come together in breathtaking harmony. And somehow, Ms. Campus has managed to capture the ultimate destination for this journey with "Love In Every Bite." From the practicality of delicious, natural recipes (many of which align with how I need to eat for my physical health) to the "whole self" notion that to feed the body is to feed the heart, body, and spirit (a gift my husband and soulmate gives me every day), this book is the perfect counterpoint to the food-fearing attitude that dominates too much of our culture. Perfetto, Ms. Campus…simply perfetto.
Lively, conversational read. Like talking with a friend. Good tips and awesome recipes. Can't wait to try more of them. Photos make the dishes look so appetizing..
Highly recommend it! It's a excellent cooking book, and easy to follow instrucciones! I love it!
I am so entranced and enticed. Jenn Campus writes with authenticity and authority but most importantly LOVE. I am so excited to try the recipes and use her words to add new focus and positivity to our family meals.
This isn't just a cookbook, it's a philosophy and an inspiration! The recipes are very eclectic and seem well tested, but most importantly delicious!
I love this concept of cooking with intention but also how the ingredients in the recipes support that. The recipes are well thought out and look delicious. I can't wait to make some of them for my family! A nice bonus was the list of suggested products and brands for the conscious consumer.
This books seamlessly blends key tenets of mindfulness and living with intention along with gourmet, yet attainable cooking. The recipes are all gluten-free, though the accompanying photos make them look yummy enough to be enjoyed by all. Campus does a great job of encouraging readers to cook with the highest quality ingredients and an eye to good nutrition, without being pretentious.
I've been following "The Yum Queen" for years. Her recipes, lifestyle and attitude make her irresistible to me. Rarely, do I meet people that walk the walk. Jenn and Roberto Campus are authentic and sincere and her recipes are toe curling good.