Do you ever stop to think about why we still celebrate many ancient harvest festivals? Halloween, also known as Samhain, Thanksgiving, and to a lesser degree Lammas, which begins its celebrations today, are probably the most well known.
Our ancestors depended on the food they grew and could forage for their survival. This truth is ingrained in our DNA and the reason for our endurance as a species. Today we shop year-round at the grocery store, yet these holy days still stir our ancient hearts. It is why so many of us still garden; it is tied so deeply to the human story.
In the FREE seasonal guides I write each month, I talk often about how the proper growing and storing of crops and food was a vital skill for our ancestors; how too much rain, drought, or a barn fire could mean famine and sometimes death. The subject comes up often in the guides because the ancient seasonal celebrations, still relevant today, were based on the agricultural calendar, and giving thanks (or praying for) for abundant crops.
Zucchini Season
All the seasonal jokes about zucchini are flourishing right now, as it is the season. When I used to tend a huge garden (twelve raised beds plus) we had a plethora of zucchini and I grew to really love it. There are so many ways to enjoy it – fried, roasted, baked into cakes, bread and muffins, made into chips and relish or just shredded and frozen for later use.
Our not too distant ancestors would have jumped for joy at a bumper crop, and they would know how to use it.
Recently a friend with a prolific garden gifted us with some of her zucchini and I believe one of them was the largest specimen I have ever seen!
image="31363″
Drawing on the traditions and flavors of the Mediterranean island where I live, while keeping in line with the principles of the Modern Peasant, and without any canning supplies, and very little freezer space, I used my kitchen witchery skills to create a feast of dedicated zucchini meals and relish the season with my family! (P.S. we are not tired of it yet!)
Start'em Young
My kids were super excited about the giant zucchini. Even though my almost 5-year-old daughter already knows how to use a knife in the kitchen (supervised!), these zucchinis needed a big one, so she and her brother worked with my husband to create dinosaur sculptures from the zucchini skins while I processed the zucchini. They loved it as much as getting a new toy!
The Recipes
Here are three Mediterranean ways to use a bumper crop of zucchini:
Fainè (chickpea cake) with Roasted Zucchini
Fainè is a chickpea cake with origins in Genoa but found it's way to the north of Sardinia during the Middle Ages. It has also found a home in the Italian diaspora of Argentina and Uruguay. Find out more about its history here.

Enjoy it hot from the oven, or serve cold.
INGREDIENTS:
1 ½ cups of chickpea flour
2 cups water
pinch of salt
1 cup roasted zucchini
¼ cup olive oil to prepare the pan
black pepper to taste
METHOD:
In a bowl, combine the water, chickpea flour and salt, mix well with a whisk to make sure the mixture is smooth with no lumps.
Let mixture stand for at least 3 hours.
Meanwhile, roast the zucchini.
Preheat oven to 400 F.
Cut zucchini in strips about ¼ inch thick; lay them on a baking dish.
Drizzle with olive oil and sprinkle with salt.
Roast for about 15 minutes, then flip and roast another 10 minutes, until soft and golden on the outside.
When the chickpea mixture is ready, preheat the oven to 450F.
Remove the foam and extra liquid that has formed on top of the batter.
Cover the pan with parchment paper. If your pan is non-stick (I use my cast iron skillet), this step is not necessary, just pour in the olive oil and grease the pan with it.
Pour the chickpea mixture and stir well.
Place the roasted zucchini strips on top.
Put in the oven and cook for about 25 minutes, until it forms a crust on its surface and the sides are browned.
Sprinkle the Fainè with some ground black pepper before serving.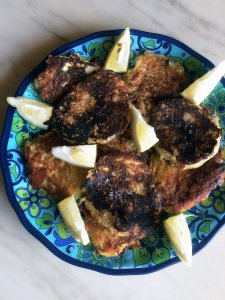 Zucchini and Potato Fritters
Italians love little fried bites – whether it is seafood or vegetables, a crunchy coating covering the delicious morsel then lightly cooked in olive oil is loved by all. They can be served hot, or at room temperature.
INGREDIENTS:
2 medium zucchini (about 1 1/2cups), shredded
2 small potatoes, (about ½ cup), peeled and shredded
2 garlic cloves, very thinly sliced
1/2 cup whole-milk ricotta cheese
2 large eggs
2 teaspoons grated lemon zest
salt & pepper
3/4 cup all-purpose flour (gluten-free also works!)
Olive oil, for frying
Lemon wedges, for serving
METHOD
In a large bowl, combine the zucchini, potatoes, garlic, ricotta, eggs, lemon zest and salt and pepper.
Stir well, then stir in the flour until incorporated.
Line a large plate with paper towels.
In a large skillet, heat about 1/4 inch of olive oil until shimmering.
Working in batches, place ¼ cup mounds of the zucchini batter to the hot oil, flattening them to form 3-inch fritters.
Fry over moderately high heat, for about 2 minutes, until browned and crisp, then flip and cook the other side the same way.
Drain the fritters on the paper towels and sprinkle with salt and lemon juice.
Serve right away, with additional lemon wedges.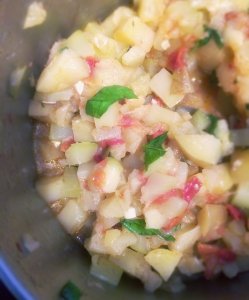 Summer Vegetable Stew
(serve at room temperature)
A common way to enjoy all summer vegetables together!
INGREDIENTS:
1/3 cup olive oil
2 medium onions, chopped
4 garlic cloves, finely chopped
1 1/4 pounds zucchini, cut into 1-inch pieces
1 pound potatoes, peeled and cut into 1-inch pieces
1/2 cup water
¼ cup red wine vinegar
1 pound fresh tomatoes, chopped
salt & pepper
METHOD
Heat oil in a heavy bottom soup pot over medium-high heat.
Add onions and garlic and cook, stirring occasionally, until pale golden, about 5 minutes.
Add zucchini and potatoes and cook until golden.
Then pour in the liquids, use a spoon to stir and scrape up any brown bits at the bottom.
Stir in tomatoes with juice.
Season with salt and pepper.
Reduce heat to low and cook, covered, stirring occasionally for about 30 minutes or until all the vegetables are soft.
Serve as is with bread, or serve over rice or pasta.
Think about where you live, and the traditional foods of your ancestors, and create your own zucchini feast. Please share any family favorites in the comments!
Related Posts:
Traditional Sardinian Food: Malloreddus and Maialetto
Medieval Chickpea Flour Pan Cakes
Eat Like an Italian: Part 1: No Guilt (How Sardinia Helped Me Deal With My Unhealthy Relationship With Food)