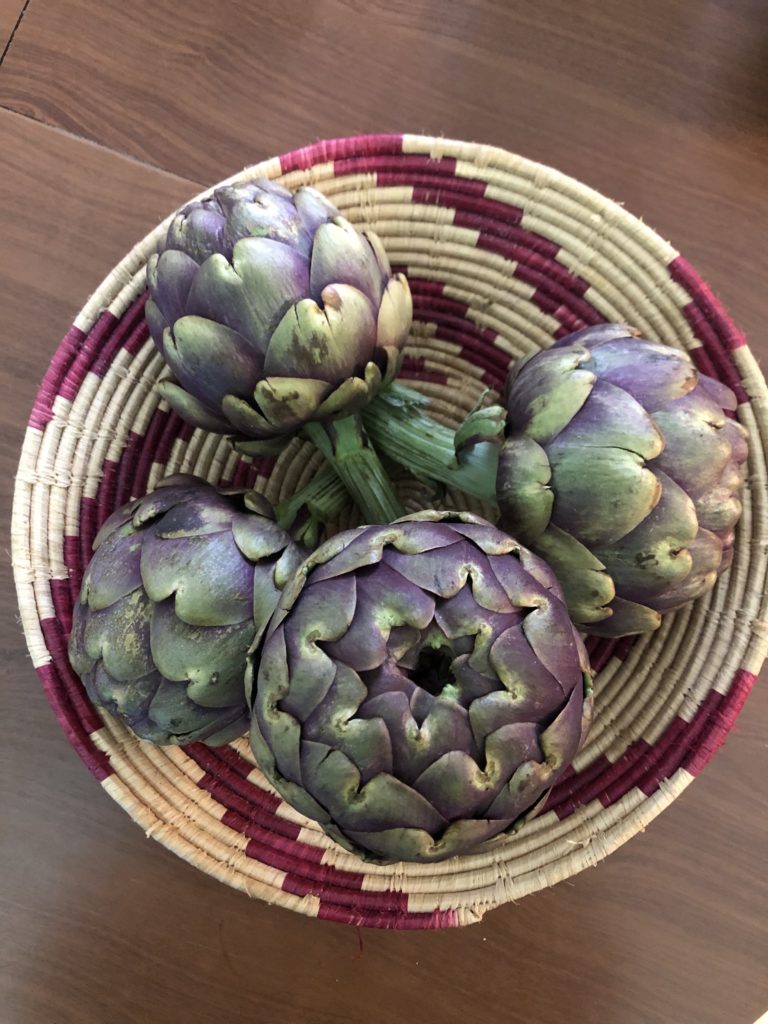 Nemo Me Impune Lacessit
(No One Attacks Me With Impunity)
~motto of the Order of the Thistle

An artichoke is the bud of an enormous thistle.

The bud of a flower houses potent Magic. Eruptive Magic. It holds back a powerful nature until it's ready to be let loose.

Learn how to use the magic of Artichokes in a ritual of self-sovereignty & boundaries in this month's Ritual Recipe available exclusively through Patreon. This artichoke ritual is particularly good for the young ones in our lives, most especially girls who are in the Spring of their own lives.

It also includes an instructional video on how to clean and prepare an artichoke two different ways. Plus artichoke history, folklore, health benefits and more! (Scroll to the bottom to find a quick weeknight pasta dish that's bursting with the flavors of Spring in Sardinia!)
What is a Ritual Recipe?
It's an offering I share with those who want to bring more ritual into their cooking, who are curious about the folklore, history and mythology of food, and for those who just love creating in the kitchen.
It's also a way for me to give a voice to the ingredients that we work with, so we can better understand the medicine they offer us, and to remind us that all things are alive with their own unique energy.
The Ritual Steps
The first step for me is to decide on the star ingredient – the one that really symbolizes the energy of the particular month. I take into account seasonal shifts, including what special and particular ingredients are in season, and easily accessible to most people.
Second, I take time to really get to know the ingredient. Before I begin my research, I hold it in my hands, I taste it, I smell it, I work with it by spending time listening to what it has to tell me about its magic and medicine.
Third, I spend about 6-8 hours researching and writing about the ingredient, its history, folklore/mythology, health properties, and traditional uses, including all types of recipes.
Next, I spent several hours in the kitchen recipe developing. I think about flavors, and the magic of all the ingredients I will use. I work out how they all come together to form a spell. I think about cooking techniques that would best serve the process. Then I play – I try several ideas until one comes out with all the intended results.
Finally, I work on how to alchemize all of the information and come up with a ritual so that participants can feel the power of the medicine that the ingredient has to offer and bring that magic into their own kitchens, and lives.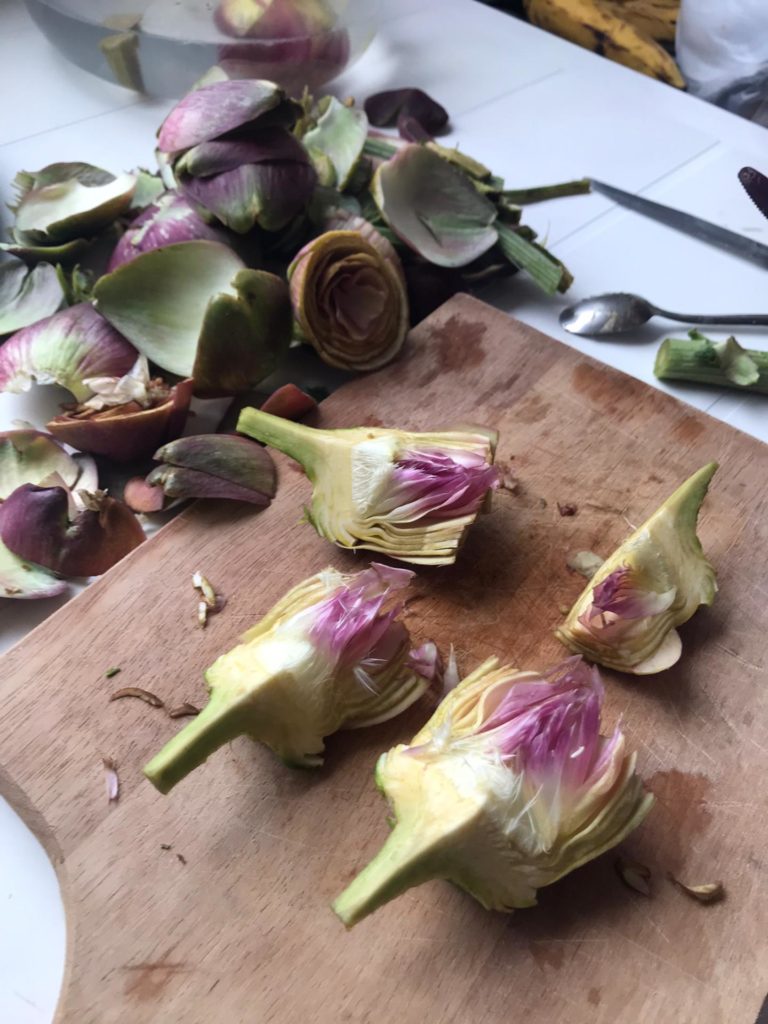 How to Cook an Artichoke
Most people feel intimidated by cooking artichokes. That's the nature of her. She is intimidating. Creating something edible from this prickly creature requires getting intimate with her. If you treat her lovingly with skilled hands she will open for you and share her magic. I share the magical properties I have come to know her for, including a ritual to use that magic in your own kitchen.
Plus, this month's recipe includes an artichoke preparation video by my mother-in-law. She's lived in Rome, the artichoke epicenter, since she left Sardinia at the tender age of 16 for work. So she definitely knows her way around an artichoke! Due to her participation, the ritual recipe includes several ways to prepare and cook artichokes. Here's a sneak peek.
How to Eat an Artichoke
There are so many ways to eat an artichoke. In the Ritual Recipe you will discover two ways, one way in which the artichoke is cooked whole, and another in which it is quartered and then cooked. I also share a special sauce to enjoy with the dish that highlights the unique flavors of Sardinia.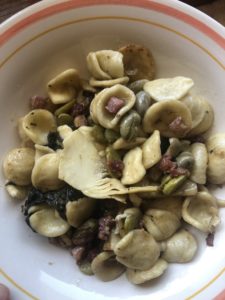 Here is an easy pasta dish you can make on a weeknight to enjoy the flavors of Spring in Sardinia. My version combines fresh, local fava beans and wild foraged nettles with salty pancetta, juicy artichoke hearts and fresh lemon juice. There is quite a bit of olive oil in this recipe, but it makes the sauce.
INGREDIENTS:
500 grams (1 lb. package) orecchiette
1/4 cup pasta water (reserved)
4 Tablespoons extra virgin olive oil
1/4 cup pancetta cubes
2 cloves garlic, minced
2 handfuls of fresh nettles (you can substitute spinach or arugula)
1 cup fresh fava beans, blanched
1/2 cup artichoke hearts (jarred or frozen)
Juice of one lemon
zest of one lemon
salt & pepper

METHOD:

In a large pot bring water to a rolling boil, add a couple pinches of salt, and cook the pasta according to the package directions.
Meanwhile, warm 2 tablespoons of olive oil in a large skillet over medium heat. Add the pancetta cubes, and brown them about 3-4 minutes. Then add the garlic, and turn the heat down to low. Get the garlic nice and golden (1-2 minutes), but be careful not to burn. Add the nettles and fava beans* and stir. Season with salt and pepper to taste. If the pan is too hot and dry add about a tablespoon of the pasta water. Sauté over low heat.

Add the artichoke hearts, lemon juice and zest. At this point the pasta is probably close to finished cooking. Be sire to reserve about 1/4 cup of water before draining. Add the pasta, the water, and the rest of the olive oil to the pan, and cook about 2-3 minutes or until most of the liquid is gone. Season with salt and pepper to taste.

*A note on cooking fava beans. When adding them to pasta, risotto or warm salads it is best to blanch them in salted water for about 3-4 minutes. Usually the inner skins that cover the bright green bean will fall off. If not, it's not necessary to remove them. They are soft enough to eat. Some say they make the beans a little more bitter, but if that's the case, I guess I enjoy that flavor.


Related Posts:
Strawberry Magic (+ Cake)
The Many Uses of Rose Petals
The Earth is Our Mother: (Earth, Arbor & Yggdrasil Day)
Traditional Sardinian Food: Malloreddus and Maialetto
Live Like a Sardinian: The Key to Longevity
Eat Like an Italian: Part 1: No Guilt (How Sardinia Helped Me Deal With My Unhealthy Relationship With Food)|
Saffron, Ricotta, and Honey (Sardinia's Holy Trinity)