Blessed Mother's Night greetings!
What is Mother's Night?
Today, December 20th is Mother's Night, the official beginning of the celebration of Yule. Yule is a twelve-day festival that was celebrated in ancient times. Many people, like my family, still celebrate it today. In case you aren't familiar with it, I'd like to share some information about it, in hopes that you might add it to your holiday celebrations.
This is the day known as Mōdraniht in Old English, and "Mother's Night" in modern. It is one of my favorite days of the year. Today we honor and offer thanks to our female ancestors, those who are believed to watch over our families and help us in times of need. These figures are known in Norse mythology as The Disir. Many people chose to give their direct maternal line ancestors high honors on this night.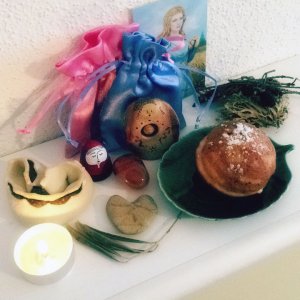 How We Celebrate Mother's Night
Altar
Here is a picture of our Disir Altar for this year (2017). I don't have pictures of my female ancestors handy right now because of our move from the US to Sardinia, Italy. We are still waiting for our boxes to arrive.
I am using the goddess Sif as my muse, since she is the mother of our patron god, Wuldor (Ullr). We are also honoring the mothers of Sardinia, the Janas, or Faeries as a way to introduce ourselves to this new place. If you don't want to work with your female ancestors for any reason you can always opt to honor spirits of the land where you live, or even Frigga, the All-Mother.
Bake Cookies
Many people have associations with this time of year and female heads of household baking cookies. Therefore, you may choose to do as my family does, and bake cookies to give in offering to the Disir, the female ancestors of your family. A lot of families are already doing holiday baking, so a simple way to honor your own Disir is to gift them with cookies. You can take it a step further, like we do, and choose a special cookie, possibly from the region of the world where your female ancestors are from to bake for the Disir.
Today we made Aebelskiver (using this recipe), but in years past we have also made Scottish shortbread, Cuccidati (Sicilian fig cookies), and Papassini.
What cookies are traditional in your household this time of year? I'd love to hear about them.
Please feel free to post your favorite recipes in the comments below.
A Guide to Celebrating the 12 Days of Yule
If you are part of my mailing list, you just received the chapter of my book, A Guide to Celebrating the 12 Days of Yule on how our family celebrates Mother's Night. If you are reading this after 2017, I usually send this out to my mailing list subscribers each year, so feel free to sign up for extra Yule goodies.
In the chapter, I share how we bake special cookies from the regions where our ancestors came from to offer our female ancestors on this day. I also share how to build a Disir or ancestor altar, and share a prayer that I wrote to honor our female ancestors down the line that you can use for your own celebrations.
12 Days of Yule Mini Course
If you want a little more support and would enjoy an audio guide, then please join me for the 12 Days of Yule Mini Course where you will receive a short recording for 12 days. Each recording is 5 minutes or less but packed with a combination of folklore, history, rituals, activities, and stories to help you ground into the reason for the season, and connect with Ancestors and the Old Powers.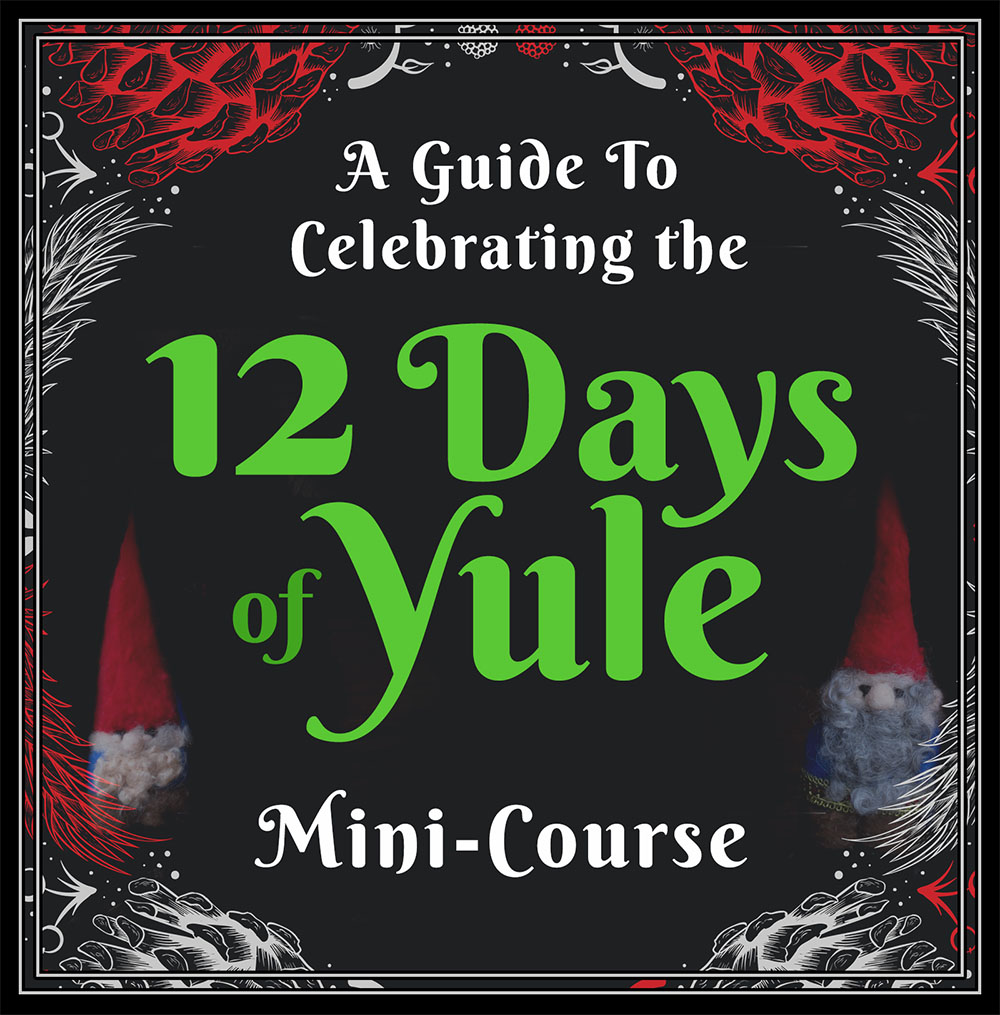 Enjoy Mother's Night with your family <3
Related Posts:
A Guide to Celebrating the 12 Days of Yule
Yule Elf Folklore for Children
12 Days of Yule: Day 2: Winter Solstice