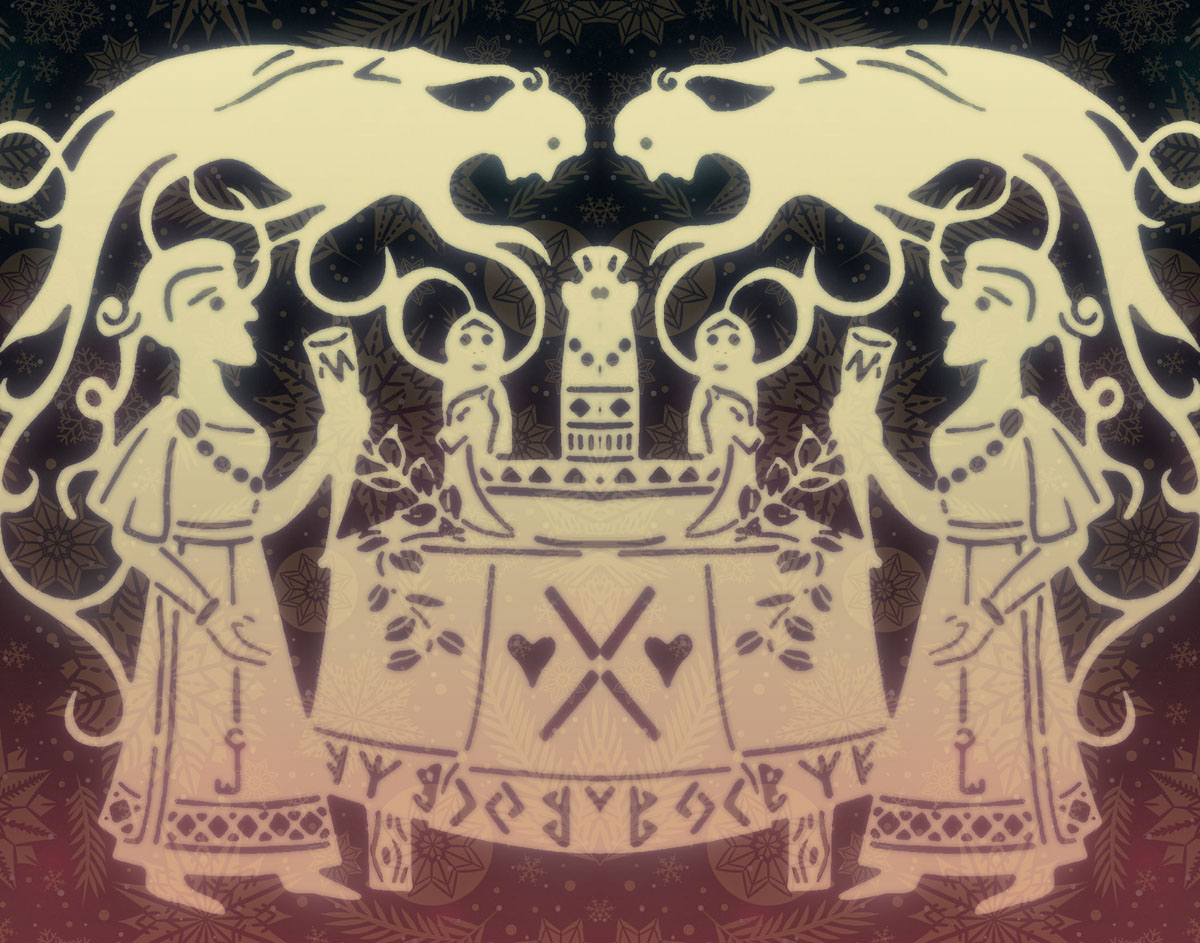 Today begins the celebration of Yule, a twelve-day festival in ancient times which many people, like my family, still celebrate today. This is the day known as "Mother's Night" and one of my favorite days of the year. It is the day when we honor and offer thanks to our female ancestors, those who are believed to watch over our families and help us in times of need. These figures are known in Norse mythology as The Disir.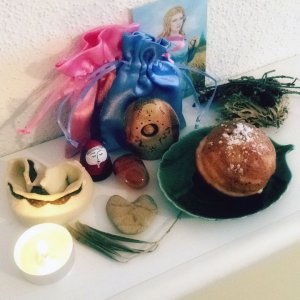 Here is a picture of our Disir Altar. Since I don't have pictures of my female ancestors handy right now because of the move, I am using the goddess Sif as my muse, since she is the mother of our patron god, Wuldor (Ullr). We are also honoring the mothers of Sardinia, the Janas, or Faeries.
Many people have associations at this time of year of the female head of household baking cookies. So my family bakes cookies to give in offering to our Disir, the female ancestors of our family. A lot of families are already doing holiday baking, so a simple way to honor your own disir is to gift them with cookies. You can take it a step further, like we do to choose a special cookie, possibly from the region of the world where your ancestors are from to bake for the Disir.
Today we made aebelskiver (using this recipe), but in years past we have also made Scottish shortbread, and cuccidati (Sicilian fig cookies).
What cookies are traditional in your household this time of year? I'd love to hear about them.
Please feel free to post your favorite recipes in the comments below.  
If you are part of my mailing list, you already have the chapter of my book, A Guide to Celebrating the 12 Days of Yule on how our family celebrates Mother's Night. In the chapter, I share how we bake special cookies from the regions where our ancestors came from to offer our female ancestors on this day. I also share how to build a Disir, or ancestor altar and share a prayer that I wrote to honor our female ancestors down the line that you can use for your own celebrations.
It is not too late to get the FREE chapter on Mother's Night, just sign up for my FREE newsletter. In addition, you also receive the chapter on celebrating the Winter Solstice, which is tomorrow!
Enjoy Mother's Night with your family <3