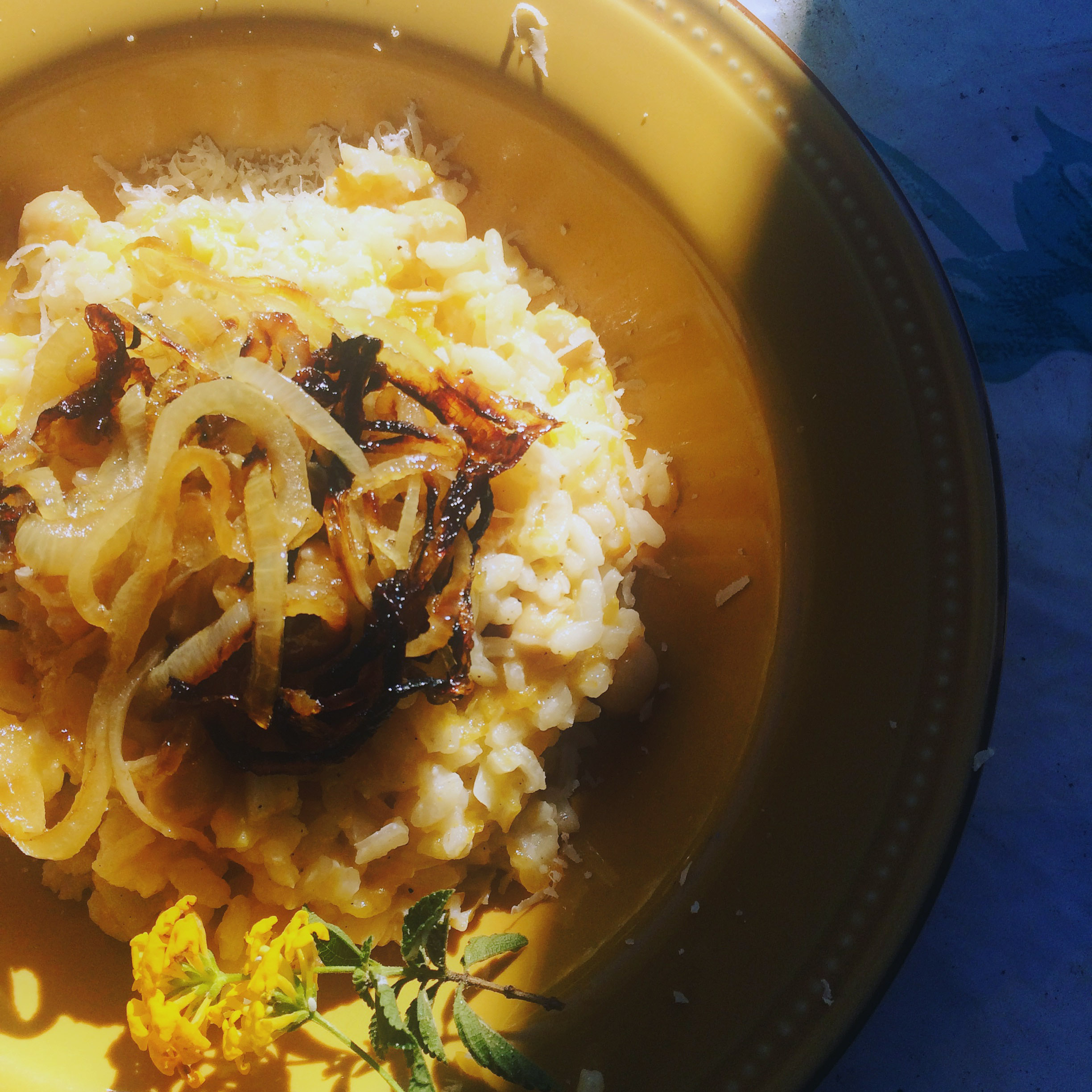 In the US, it is pumpkin season, admittedly one of my favorite times of the year. I just can never get enough of that bright orange flesh and the spices that compliment it. Being American, pumpkins at this time of the year are iconic, and a seasonal food that Americans actually relish during its season.
In Italy, everything is eaten in season. Even in the supermarkets, you can't find strawberries right now, or avocados (a couple of our family favorites). Although oddly you can find bananas, those seem to be ubiquitous for some reason no matter where in the world you are.
Part of my mission, as a mom of two small children is to celebrate the seasons. I also want them to be deeply in touch with their roots and where they come from. Although being "American" can hardly be argued as having one particular root system, it does come with its own traditions, and one of them is enjoying all things pumpkin from October through November!
I was brainstorming with a friend of mine, Judy, another American expat who lives in Tuscany, and she gave me some suggestions for serving pumpkin using more Italian applications. She has lived in Italy for a very long time, and pumpkin is more available and eaten more regularly in Tuscany than it seems here in Sardinia. One of her suggestions was to make risotto. My kids love risotto and so I made risotto with pumpkin.
Risotto is very easy to make, it just takes a little more attention than making a normal pot of rice. Instead of putting all the water in at once, you add ladles full of steaming liquid to the rice, allowing the rice to soak it up before adding more liquid until it is finally cooked. When I make risotto, I feel very much like the kitchen witch that I am, stirring a steaming pot of potion. Risotto is a potion if you think about it. Creating risotto is a nourishing ritual, one that can be easily adapted to what you have on hand, or what particular flavors, or nuances you want to impart.
The whole family enjoyed this pumpkin risotto, even my husband, who was a very late adopter of the pumpkin frenzy when we lived in the US. In fact in the beginning of our marriage, because he didn't like pumpkin (pumpkins aren't big in Rome, where he grew up), I took a hiatus on making all the pumpkin –laden treats I adore this time of year, because, for me, part of the pleasure is enjoying it with others. After a few seasons like this, I literally broke down and cried. So he promised to give it another go. I don't know to this day whether he truly likes it now, like he swears he does, or if he just loves me more than he hates pumpkin. I'll never know! My father in law, who despises American food, in general, took a second helping.
I can't wait to make it again! If you make this recipe, I hope you enjoy it.
Creamy Pumpkin Risotto with Crispy Onions
Author:
Prep time:
Cook time:
Total time:
This creamy risotto uses a seasonal American vegetable, pumpkin, to create a very Italian dish.
Ingredients
2 tablespoons of olive oil
1 ½ cups of Arborio rice
2 cups of diced pumpkin
½ cup of diced leeks
2 cloves of minced garlic
@ 5 cups of hot liquid (water, broth, or a combination)
¼ cup of white wine (optional)
salt & pepper
1 cup cooked chickpeas
1 tablespoon of butter
¼ cup of cream (optional)
grated pecorino cheese, to taste
1 large onion (white or yellow) sliced thin
2 tablespoons of olive oil
salt & pepper
Instructions
Warm the olive oil in a deep skillet or large saucepan over medium heat.
Add the rice, pumpkin, leeks, and garlic and sauté until the rice becomes opaque. Add about a teaspoon of salt and a dash of pepper. It is important to season the rice before it is cooked so the rice will absorb the seasoning as it cooks imparting a good flavor to the overall dish.
Then pour in about a cup of liquid of your choice. If you are using wine, add that now.
Cook until the rice absorbs the liquid, and then add another cup.
Keep doing this until the rice is cooked al dente.
While the rice is cooking, make the crispy onions.
Add 2 tablespoons of olive oil to a small skillet and warm over medium-high heat. Add the sliced onions and cook, while stirring often, until they are browned on the edges.
Set aside and serve on top of the final dish.
Once the rice is al dente, stir in the cup of chickpeas, the butter and the cream if using and cook until the chickpeas are warm, and the butter has melted, about 3-4 minutes.
The butter and cream add a layer of richness to the dish, but they are not necessary to create a creamy dish. So feel free to leave it out.
Season the dish with salt and pepper to taste.
Serve with grated pecorino cheese and the crispy onions on top.
SaveSave
SaveSave