I invite you to join me on a culinary voyage across the Atlantic, where we'll trace the delicious saga of Italian-American cuisine from its humble immigrant beginnings to its celebrated place at American tables.
As part of Montclair State University's International Education Week, I'm honored to host a talk sponsored by the Coccia Institute and moderated by Dr. Gina Miele, exploring the rich narrative that Italian diasporic cooking weaves into the fabric of America.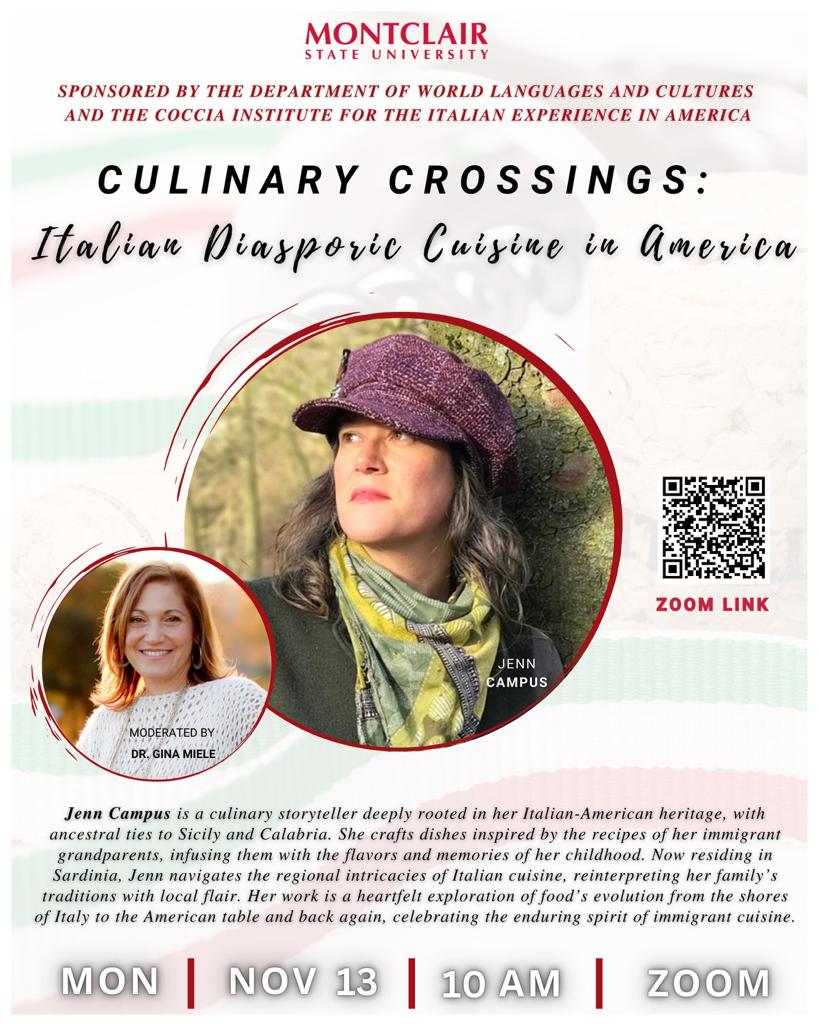 What's on the Menu?
• Diasporic vs. Fusion: Understanding the connection to heritage through food adaptation and innovation.
• Historical Tastings: Explore the economic and cultural influences that shaped dishes from Pasta Fazool to Lasagna, painting a picture of how Italian immigrant cultural sharing influenced the standardization of Italian-American cuisine.
• Classic Dishes, Evolved: Unpack the stories behind Pasta alla Carbonara's post-war creation, Fettuccine Alfredo's creamy conquest of American hearts, the marriage of Meatballs with Spaghetti, and Baked Ziti's festive transition.
• Lasagna's Layered History: A deeper look into its transcontinental journey and transformation from an Italian delicacy to an American comfort food staple.
• Caponata's Cultural Journey: A personal reflection on this Sicilian classic's evolution through the melting pot of cultures.
• Ancestral Flavors: How culinary traditions act as a bridge to our roots and the importance of keeping these flavors and memories alive in our kitchens.
• A Living Legacy: My family's culinary legacy that shapes my connection to Italian-American heritage.
Embracing Our Roots
This talk isn't just for Italian-Americans; it's a celebration for anyone looking to connect with their ancestry through the universal language of food. If you can't make the live conversation, don't worry—join my Patreon (even as a free member!) for exclusive access to the recording.
Mark Your Calendars
Culinary Crossings: Italian Diasporic Cuisine in America.
Time: Nov 13, 2023, 10:00 AM Eastern Time (US and Canada)
Zoom Invitation:
Join from PC, Mac, Linux, iOS, or Android: https://montclair.zoom.us/j/89954436473?pwd=ZTBmTE9Pbm1IdzEwSWJnejBSMUxEUT09
Password: 842505
Or iPhone one-tap :
US: +13052241968,,89954436473# or +13092053325,,89954436473#
Or Telephone:
Dial(for higher quality, dial a number based on your current location):
US: +1 305 224 1968 or +1 309 205 3325 or +1 312 626 6799 or +1 646 876 9923 or +1 646 931 3860 or +1 301 715 8592 or +1 564 217 2000 or +1 669 444 9171 or +1 669 900 6833 or +1 689 278 1000 or +1 719 359 4580 or +1 253 205 0468 or +1 253 215 8782 or +1 346 248 7799 or +1 360 209 5623 or +1 386 347 5053 or +1 408 638 0968 or +1 507 473 4847
Meeting ID: 899 5443 6473
Password: 842505
International numbers available: https://montclair.zoom.us/u/kcroInxPhC
Let's gather around the virtual table to share stories, recipes, and the vibrant legacy that Italian-American cuisine offers to all who partake in its rich history.
Related Posts:
Lasagna Legacy: Italian Food History (+recipe)

Ancestral Food: Sicilian Caponata
Traditional Sardinian Food: Malloreddus and Maialetto
Eat Like an Italian: Part 1: No Guilt (How Sardinia Helped Me Deal With My Unhealthy Relationship With Food)